THE 2ND INTERNATIONAL CONFERENCE ON CULTURAL STUDIES AND APPLIED LINGUISTICS (ICCSAL)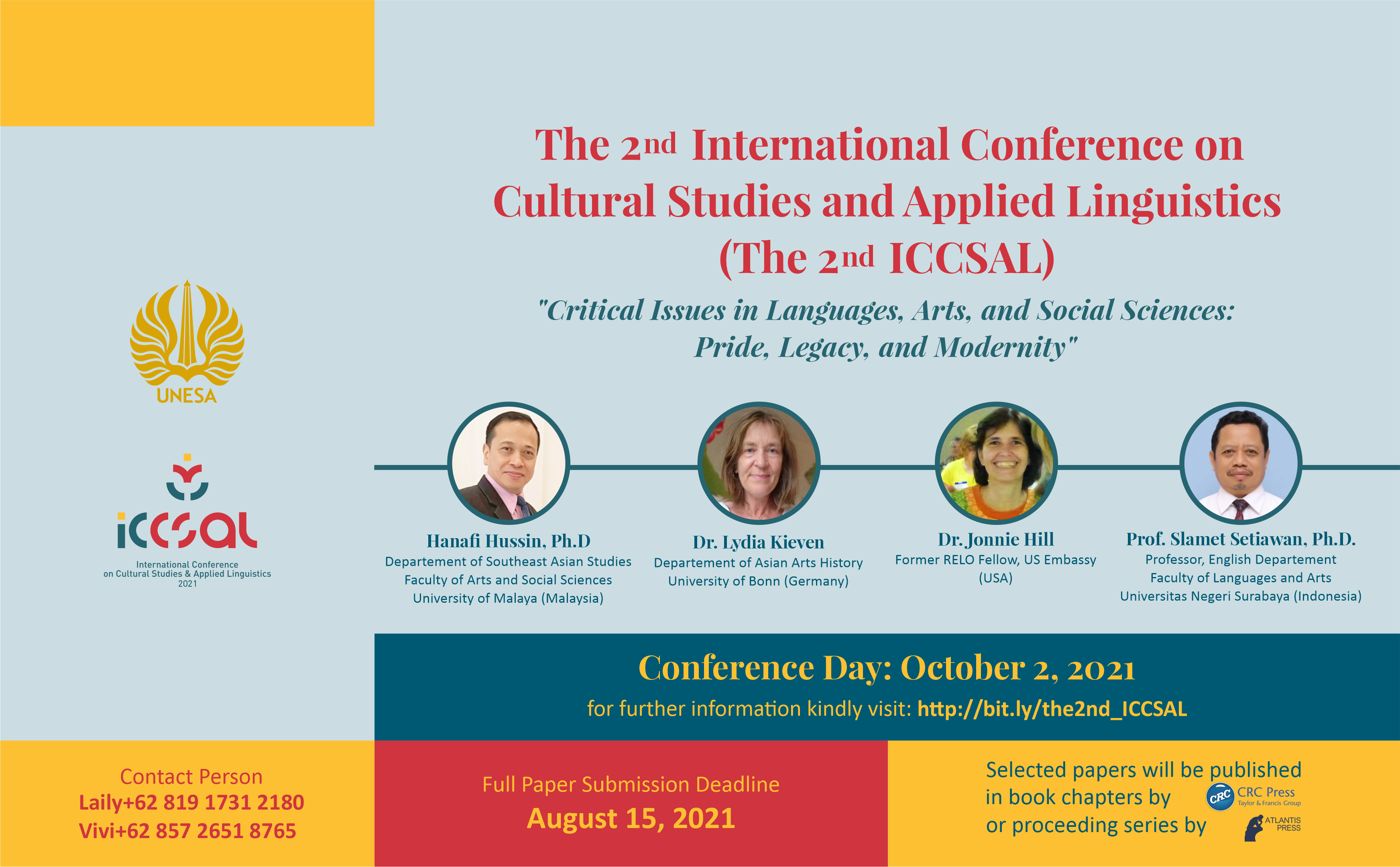 Universitas Negeri Surabaya (Online)
Universitas Negeri Surabaya (Unesa) will host The 2nd International Conference on Cultural Studies and Applied Linguistics (The 2nd ICCSAL), formerly known as the Social Sciences, Humanities and Education Conference (SoSHEC), taking up a theme Critical Issues in Languages, Arts, and Social Sciences: Pride, Legacy, and Modernity. The aim of the conference is to provide a platform for researchers around the globe who want to present on-going or completed research results in the broad area of cultural studies and applied linguistics. This conference will feature an online plenary and individual sessions which address a wide range of topics within the fields.
CALL FOR PAPERS
Invitation for a full paper submission will be closed on 18 July 2021 (batch 1) and 15 August 2021 (batch 2). Notification of full paper acceptance for presentation will be announced on 11 August 2021 (batch 1) and 25 August 2021 (batch 2). The full paper revision must be submitted by 9 September 2021 and full paper camera ready will be announced on 17 September 2021. The conference will be held online. The paper is written in academic English. The paper should include the purpose of study, methodology, results, discussion and implication. Abstract should be between 150-200 words long. The full paper should follow the template (download here) and must be between 4-6 pages long. For further information about OCS registration and paper submisision, see OCS Guideline. Selected papers will be published in CRC Press/Balkema indexed by Scopus.
SCOPE OF CONFERENCE TOPICS
1. Archiving local knowledge
2. Reflective practice in art making proses
3. Cultural policy and community
4. Film, media, and cultural transformation
5. Critical literacy and transformative social practice
6. Gender and religious identity
7. Indigenous studies
8. Discourse analysis
9. Corpus linguistics
10. Translation studies
11. Language ideology
12. Innovation in language teaching and learning
13. Equity-based language planning and language policy
14. Reflective practice in assessment and evaluation
15. Culturally responsive and anti-biased education
For more information, please click here.